Indoor Environment Group, Inc

Indoor Environment Group, Inc. provides sound solutions for your indoor air quality, environmental and health & safety issues.
Our mission is to assist building owners and managers in their quest to develop and to maintain an efficient, economical, safe, healthy facility using a practical approach and cost effective procedures.
We offer a variety of services to assist you in program development and the ongoing management and operation of your buildings, your programs and your people.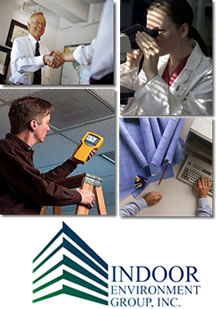 In short, we're here to simplify your life!

Our primary areas of service include:
Industrial Hygiene Monitoring
Put our experience and knowledge to work for you today - your initial consultation is free!
Indoor Environment Group, Inc.
2487 7th Ave E
North St. Paul , MN 55109
(651) 779-4300
(651) 304-1536 fax

Send e-mail