AutoDesk FMDesktop
Track every person, place, and thing. Plan precisely for moves, emergencies, recoveries, and repairs. Know what facility problems need to be addressed and where. Learn when operations can start, who they will affect and how, all from your existing drawings and floor plans. It's your information: waste not, want not.

Autodesk® FMDesktop software helps you address your most pressing facility management requirements. Easy to use and quickly deployable, FMDesktop services both single-license installations and larger enterprises, from a few thousand to several million square feet.
FMDesktop addresses the four major functions of facility management: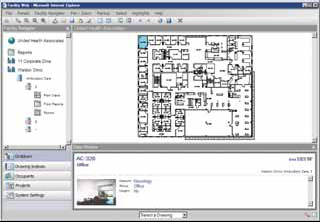 Space and asset management


Project management


Emergency management


Maintenance management


Real-World Solutions
Developed by and for facility managers, Autodesk FMDesktop offers intuitive and easy-to-use features. Organizational requirements are addressed through full integration of vital design, asset, and facility management information. Search for specific space or assets on any displayed floor plan, and then select and view vital facility data with just a few clicks.

Generate dynamic reports, track your organization, even have employees submit and track service requests. At every stage of your operation, remain realistic.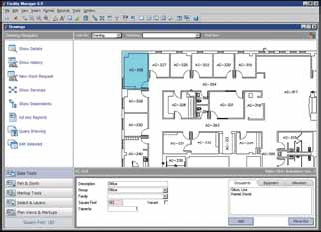 FMDesktop Components:
Autodesk FMDesktop includes four major components to enable a complete facility management solution for your organization's specific needs.

Autodesk® Facility Link

Connect objects in your facility drawings to records in the Autodesk
FMDesktop database through an intuitive interface.

Autodesk® Facility Manager

Manage all facility drawings and data in one database environment.
Query, pan, zoom, print, and share facility drawings and data.

Autodesk® Facility Web

Use the web to access and share all facility data and drawings
through the Internet or your organization's intranet.

Autodesk® Facility Request

Help your facility occupants enter service requests ranging from
corrective maintenance to moves.

Import, Export, Integrate
Using the DWF open and secure file format for distributing rich design data, turns project drawings into facility management tools. Import data directly from drawings created in currently supported versions of AutoCAD software. Select and view the status of particular office space and equipment using readable drawings created in Autodesk Architectural Desktop 2007 or Autodesk Revit Building 9.1.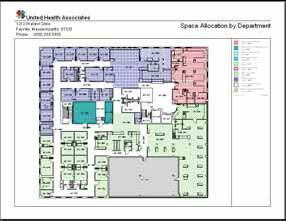 Query Drawings and Create Reports
Autodesk FMDesktop infuses project drawings with vital information, and then provides them whenever and wherever they are needed. Click to retrieve important data from drawings. Find out exactly what you need to know, and then tell others by creating reports, spreadsheets, and more.
Maintain Manageability
A complete computerized maintenance management system (CMMS), Autodesk FMDesktop enables maintenance professionals to store and locate vital information about building operations, inform management in a timely fashion, decrease downtime, and prevent potentially costly errors. Request and schedule emergency repairs and preventive maintenance with minimal inconvenience. Access up-to-date asset information including warrantees, service contracts, spare parts, and more.
Build Teams
People are watching. Maybe they can help. Autodesk FMDesktop distributes facility data to anyone who needs to see it. Branch staff can access information from the home office. Employees can submit and receive service requests remotely. HR managers can locate vacant space for new hires.
Free Trial System
Not sure if FM Desktop is right for you? We offer a free trial program set up with one of your buildings. CLICK HERE for more details or contact us directly at (651) 779-4300 or toll-free at (866) 551-9818.