Energy Management

Energy Audits

Energy audits are comprehensive evaluations of the actual performance of a facility's energy using systems and equipment compared against the designed performance level or the industry best practice. The difference between observed performance and "best practice" is the potential for energy and cost savings. ENERGY STAR Partners have found that conducting plant audits is vital to a strong energy management program; without audits it is difficult to continuously improve energy efficiency and demonstrate savings.

Energy audits help managers to:
Identify actions for improving energy performance;
Prioritize projects; and
Track progress.
Upon completion of the audit, we will provide a report that identifies low-cost and no-cost energy-saving techniques you can use right away. We'll also recommend incentive programs to help you afford measures requiring an investment in energy-efficient equipment. The custom report that we generate for you will outline the benefits of our recommendations, which will focus on specific measures and technologies that deliver immediate peak-demand and energy savings.

Regular facility energy audits are most effective when they are part of a strategic energy management program. For that reason, we may also recommend the implementation of an Energy Management Programs as designed in the following section.
Energy Management Programs
More and more organizations are realizing the importance of energy performance and its overall impact on annual budgets, share holder value, corporate profits, and image. Energy is increasingly seen as a strategic business concern, whether it be:
Guaranteeing a reliable supply to support critical business processes ranging from manufacturing operations to assuring the integrity of key company data;
Maximizing efficiency to reduce use, cost and environmental impact; or
Developing new products or services to take advantage of a dramatically changing energy marketplace.
We can help you play a pivotal role in changing the business processes and management strategies of your organization to incorporate comprehensive energy management practices.
Our programs are designed to guide organizations in identifying energy-related business opportunities and developing the strategic framework for realizing them. There is no single "strategy" for energy management. We develop a unique approach for each organization based on its perception of risks and opportunities, specific targets, available resources, schedule, etc. Further, we know that each organization we work with has a unique culture and will help them develop their own management approach to realize energy opportunities.
There are four steps in the overall process: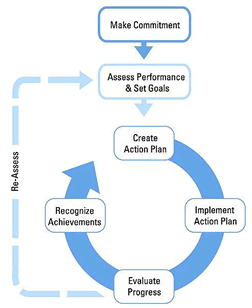 Step 1: Initial Assessment
Step 2: Design the Process
Step 3: Evaluate Opportunities
Step 4: Implementation
Step 1: Initial Assessment

This first step involves a thorough, organization-wide assessment of the importance of energy to the company in relation to its overall needs, risks, goals, image and reputation, and of potential business opportunities through energy-related products or services. Properly implemented, the assessment can provide clear direction as to the potential inherent in a strategic approach to energy planning and management.
The key question posed by the assessment process is "what are the business opportunities related to energy?" This framework provides the context for evaluating energy as more than simply a cost of operation. Companies that have embarked on such an evaluation have asked themselves very fundamental questions about how energy relates to:
Potential opportunities;
Potential risks; and
The overall "positioning" of the organization
The bottom line is that while cost is an increasingly important factor, companies evaluate the importance of energy from multiple perspectives. Other factors such as risk management, reputation, and even product-line issues may carry weight as well.
The outcome of this step is a decision: to go forward with a more strategic approach to energy management, or not.
The design and planning process begins with an assessment of a company's actual energy needs versus "business as usual" practices and an investigation into the most promising solutions for meeting those needs. Taking this approach—asking the fundamental question of "how much energy do we need?"—encourages thinking beyond the familiar and the comfortable and exploring possibilities for innovation. It is important that process design and planning consider all factors that could inhibit success, from corporate culture to appropriate scale to resources, funding and organization.
Key questions to consider:
At what scale should we initially approach energy management: a single facility or division, or enterprise wide? This decision is driven by the potential for success in the early stages and consequent sustainability of the overall management process.
What technical and financial resources are available (this is closely related to the scale question): are they internal, external, or both? What are the competing priorities for these resources?
Are there programs or processes already in place (e.g. Six Sigma) with which energy management could be integrated?
These and other questions frame the overall approach that a company will choose and can greatly influence the chances for early success, which is critical to establishing a sustainable management process that will maximize potential benefits.
Step 3: Evaluate Opportunities
This step is the "nuts and bolts" of the energy strategy and management planning process because it is where real opportunities can be realized. It is where the "real work gets done," but because of its potential size and complexity, especially in larger, diversified and energy intensive businesses, if not well mapped out and systematically approached, significant opportunities may be missed, or momentum may be lost that will be difficult to regain.
Essential to this third and crucial step in the process is a baseline that reflects the types, quantities, and costs of energy used in each significant component of the business. Ideally this will include facilities, operations, and transportation and distribution, and in some cases even the energy consumed by the product itself, especially if that issue is increasing in importance in a business sector. Also, for certain companies, this will include an assessment of new or expanded energy-related products and services that may benefit the company.
Opportunities fall into three categories, although not all will be relevant for all organizations:
Energy efficiency reduces the amount of energy used, reducing both cost and environmental impact.
Energy supply management can help to control costs and assure reliability.
Energy related products and services can help existing products to be more competitive in the marketplace or create new markets.
At any point in time, in addition to the cost of energy, a range of factors influence the opportunities that are available.
Because these influencing factors, including energy cost, are dynamic, a strategic approach to energy planning and management must be dynamic and iterative rather than static. Only in this way will opportunities be continuously identified and realized.
This fourth and final process step follows a classic management system model and involves determining and setting in place an organizational structure that will ensure that the program is integrated into the overall company management culture and that the new energy management goals are achieved. Regardless of the framework decided upon, certain management principles and tools must be in place to achieve significant results.
These include:
Leadership at the very top of the company with a clear commitment to results;
Clearly stated goals and measurable objectives at appropriate levels;
Clear accountability for results, whether in a single or multiple executives;
Sufficient resources to enable achievement of the objectives and goals;
Periodic review and updating of goals, objectives and resource commitments; and
Recognition of progress and reward for achievements.
One simple and widely adopted management system model and guidelines has been developed by ENERGY STAR in consultation with many of its partner companies.
However, the specific system adopted is not as important as whether it meets the fundamental principles for success and fits a specific company's operating culture.