Emergency & Disaster Response Services
Emergencies - Contact us at (651) 260-5127
Indoor Environment Group, Inc. can help you find the services you need following natural disasters, equipment failures, construction accidents or other catastrophic events. Following such events an immediate, precise response is necessary to reduce loss and restore the facility to operational status.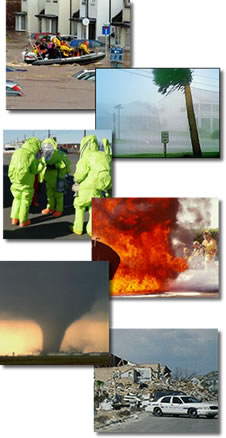 Our network of response experts will vary according to the actual incident but is always comprised of individuals and firms who have the experience and ability to identify, implement and manage necessary services. Our personnel have the ability to listen, question, and then assess the loss site situation thoroughly to ensure that the right response activities are implemented.
While the speed in which these services are started is critical, our experience has shown speed alone is not the only important issue. Since mistakes cost time and money, the most important issue is getting the right people performing the right tasks, and that's where we excel.
Indoor Environment draws on a network of disaster response contractors to satisfy the need for an appropriate and rapid response to disasters. We can coordinate and oversee every aspect of the disaster recovery process from damage assessment to invoice review and approval.
Our clients have already gone through one disaster; we make sure that their rebuilding process is not another disaster.


Disaster Response services can include:
Damage Assessment
Environmental Investigations
Forensic Analysis
Remediation, Recovery and Reconstruction Management
Recovery Cost Estimation
Remediation & Reconstruction Design & Specifications
Contractor Qualification
Contract Administration
Contractor Management
Media/Labor Relations
In most cases, we can have a Disaster Response team on-site anywhere in the country within four hours.

24-hour emergency contact number and phone lists can be provided upon request.
These services are designed for, but not limited to, the following:
Fire
Flood
Earthquake
Tornado
Hurricane
Construction Accidents
Chemical Spills
Explosions

Emergency Management Programs
Emergencies occur every day. The specter of terrorism and workplace violence — coupled with age-old threats such as fire, earthquake, hurricane, flood, and other natural, manmade, or technological disasters — mean the dangers facing employees, facilities, and operations are, perhaps, greater than they have ever been.

Indoor Environment Group can help you develop an Emergency Management Program (EMP) to prepare for these events. Our network of providers can deliver a wide array of services addressing the full spectrum of elements comprising an EMP. We provide an integrated approach to the management of emergency programs and activities for all four emergency phases (mitigation, preparedness, response, and recovery), for all types of emergencies and disasters (natural, manmade, and attack).
Emergency Management Programs encompass a number of specific planning areas. These include:
Disaster Preparedness, Response and Recovery
Hazard Analysis and Risk Assessments
Mitigation Planning
Terrorism Planning
Command and Control
Crisis Management
Business Continuity Planning
Occupational Safety and First Aid
Training