Indoor Air Inspection & Testing Services

Air Quality Inspection & Testing Services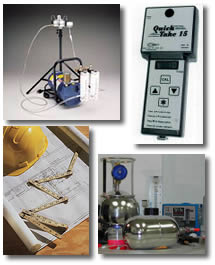 Our IAQ personnel specialize in the identification of difficult indoor air quality issues such as building-related illness and sick-building syndrome. We utilize use the most current investigative techniques and equipment to uncover the underlying problems causing poor indoor air quality.

Our goal is to identify the problem as quickly and as inexpensively as possible so we can provide you a solution before the issue becomes a hazard or a public relations nightmare. We don't simply test the air - we solve your problems.

Indoor Environment Group is capable of responding to all indoor air quality issues including:
Comprehensive Indoor Environmental Assessments
Periodic Air Quality Assessments
Sick Building Syndrome Investigations
Odor Investigations
Employee/Occupant Complaint Response
Illness Clusters
Pre-occupancy Surveys
Clean Room Testing and Certification
Computer Room Testing
Smoking Area Testing
Ventilation Performance Testing
Pollutant Concentration Modeling
Specific Contaminant Testing
Tracer Gas Studies

Standard IAQ Investigations
AirTech's standard IAQ investigations are designed to identify and correct air quality problems without performing excessive sampling activities. Initial services normally include, but are not limited to:
General visual inspection of the building
Visual inspection of the HVAC system
Cursory air flow & distribution evaluation
Confidential interviews with building occupants
Standard IAQ sampling
Carbon Monoxide (CO) – direct read/datalogging
Carbon Dioxide (CO2) – direct read/datalogging
Moisture
Temperature
Relative humidity
During the initial site visit, IAQ information profile sheets will be provided to the designated building representatives for completion.

If this initial visit identifies potential problem areas, additional testing may be recommended. If so, AirTech will provide an outline of these services and their associated costs to the building owner for approval.

Additional services could include, but are not limited to the following:
Microbial sampling and analysis

Fungal – wipe, air, bulk (quantification and/or identification)
Bacterial - wipe, air, bulk (quantification and/or identification)
Microbial volatile organic chemicals (MVOC)

Chemical testing

Individual volatile organic compounds (VOC)
Individual inorganic compounds
Chemical/VOC Scan
Pesticides/Herbicides
Aldehyde scan

Particulate testing

General particulates
Respirable Dust
Asbestos
Lead
General allergens
Dust mite/insect/pet allergens

Ventilation testing

HVAC balancing
Tracer gas testing
Blower door evaluation

Infrared Thermography
Upon completion of the initial investigation, we will develop a strategy for the remediation of the identified or suspected problem or problems. This strategy may include remediation activities, occupant awareness training, HVAC modification activities or, if the exact problem has not yet been identified, additional testing recommendations. Cost estimates will be provided for all recommended remediation or testing activities.

All information regarding the inspection, sampling, sampling results, recommendations and conclusions is included in a confidential inspection report provided to the building owner/client.