Computer-Aided Maintenance and Facility Management
Although most organizations have some sort of facility or space management program in place, they are consistently challenged to keep the data current and accessible to management for timely decision making. For many organizations, the information resides in AutoCAD or static spreadsheets, making reporting a challenge. For others, excessive time is often spent auditing facility information on an annual basis rather than focusing on the upkeep and validity of the data throughout the year.
The result can be a lack of confidence in facility data, leading to non-enforced standards, inefficient use of space and equipment, and the inability to respond to management reporting needs.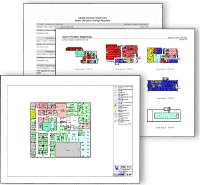 A CAFM system from Indoor Environment Group can help organizations document facility portfolios and report on facility space utilization easily and efficiently. We start with current AutoCAD drawings and link them to relational databases. We can build a comprehensive inventory of a wide variety of facility data, including equipment data, employee location, computer and telecommunications, hazardous materials, space usage, mechanical systems, maintenance tasks, capital improvements, buidling sites, floors, room numbers and many more.

We work with a number of CAFM/CIFM/CMMS products including:
Aperture
Micromain
Archibus
OnRequest
FM:Systems
We are so sure that you'll love what CAFM and/or CMMS can do for you that we'll even set up a portion of one of your facilities on a CAFM or CMMS system...for free! More details.

Key Terminology:
CMMS – Computerized Maintenance Management Systems. Our CMMS options allow organizations improve equipment maintenance, extend asset life, and reduce MRO costs. With a CMMS our clients increase the effectiveness of their preventive maintenance activities and reduce resources used for on-demand work orders.

CAFM – Computer Aided Facility Management. Indoor Environment offers a number of easy to use CAFM sytems that allow organizations to improve facility maintenance, assist with building maintenance, and reduce maintenance costs.

Preventive Maintenance Programs - Our CMMS based Preventive Maintenance Programs are designed to be integrated with our CAFM programs to bring you the ultimate in maintenance management solutions.

CPAM – Capital Planning and Asset Management Program. CPAM programs help you see the big picture of as far as your current building and asset infrastructure and capital renewal needs. A comprehensive CPAM Program will help you assess your current building and asset conditions, review capital requests, set your priorities, determine deficiency and correction costs, and help you develop a capital plan that works best for your organization.

Complete Flexibility
We provide a wide range of solutions to meet any or all of your needs:
Full Facility Management
We can help you develop a powerful facility information management system to provide you the ability to manage all of your facility drawings and data in an easy to use database environment. We use intelligent drawings incorporating real-world information. This system will allow you to graphically display database information by generating color-coded drawings based on your criteria. Create reports to show vacant and occupied spaces, occupancy by department, project schedules and so on. The possibilities are limitless.
Your Facility Management System will bring drawings and data together in a way not possible until now, by integrating drawings, asset, and facility management information. It addresses key requirements for facilities managers by giving users more flexibility than stand-alone floor plans, databases or spreadsheets. We also make it flexible enough to meet the needs of the many disciplines involved in facilities management
Building Operations Management
We can help you automate the full range of tasks involved in maintaining a facility with a Computerized Maintenance Management System (CMMS). Document and monitor preventive maintenance or repair work, manage moves, work orders, and work requests.
Real Property & Lease Management
Having trouble keeping track of all your properties on a timely basis? With a CAFM solution you can instantly produce meaningful reports about and accurate analyses of your lease and property data. We can model complex real estate and lease holdings on a national, or even global scale, and summarize their revenue potential.
Fire & Life Safety
Using software applications, we can leverage the facility information in a CAFM system to provide access to critical life safety plans, equipment, and procedures. Utilizing existing AutoCAD drawings as a base, life safety plans can be compiled to include egress plans, safe areas, pull stations, fire equipment, alarms, smoke detectors, defibrillators, and other emergency equipment. Floor plans can be accessed via web screens, and printed for display in public hallways and corridors. Integration with CAFM work order functionality and asset management capabilities allows building managers to maintain audit trails of maintenance performed on safety equipment, and schedule future preventative maintenance requirements.
Health and Safety
The Health and Safety module provides a powerful database tool for the management of health and safety information. Its comprehensive range of features can cover everything from the production and management of safety audits and risk assessments to the tracking of employee training. This tool has all the advantages of a dynamic, interactive system and enables users to identify, implement and track the actions and responses necessary to maintain compliance with OSHA safety regulations.
Strategic Master Planning
Examine your current space usage, analyze and forecast space needs, compare proposed layouts against existing conditions, allocate space based on your organization's business goals, and examine the historical use of space by budget category with this planning tool. Includes stacking and blocking features.
Space Management
Take control of your space. With Space Management we can provide you with a decision support tool that will help you optimize the use of space within your facility. You can determine how efficiently space is being used, identify rentable and leasable areas, calculate space costs and chargebacks, and draw up tenant and employee occupancy plans.
Furniture & Equipment Management
Put an end to furniture and equipment management headaches. Inventory tracking capabilities enable you to easily monitor the costs of your assets, calculate depreciation and churn rates, and plan moves of furniture and equipment. The module also helps you control costs on F&E layout, specification, and installation.
Telecommunications & Cable Management
Create a living, electronic inventory of the physical cabling and the connectivity of telecommunications networks in your facility. You can maintain the most up-to-date connectivity information for troubleshooting, and capacity information for planning.
Room Reservations
An activity that allows you to learn all the relevant details about a room before you reserve it. Once implemented you'll be able to easily schedule the use of shared rooms, track rooms by amenities by location, determine maximum occupancy of shared rooms, locate and highlight graphic images of rooms.
Hoteling
This option enables organizations with high rates of churn to use space more efficiently. Track time-based ownership, charge back for time-based ownership, link assets to move planning, view a graphical depiction of a room, such as a photograph and/or floor plan.
Industry Specific Solutions
We offer a number of industry specific solutions to help you cope with the needs and demands of your organization:
Education
Healthcare
Hospitality
Recreation
Manufacturing
Property Management
Public Sector
Other

Free Trial System
Not sure if CAFM/CMMS is right for you? We offer a free trial program set up with one of your buildings. CLICK HERE for more details.